Message from the CEO – Chairman of the Management Board
The model of co-investment according to which the Fund operates has already been adopted by the governments of several European, Middle Eastern and Asian countries.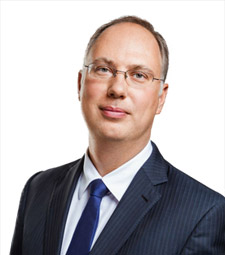 RDIF has been in business for five years now. How would you assess the initial period of the Fund's operation and what has been done during this time?
Over the years, RDIF has become a significant development institution and joined the league of the world's leading sovereign wealth funds. RDIF has attracted new long-term investors to Russia, including those from regions that had not previously invested in our country. It is primarily the Fund's Middle Eastern and Asian partners that account for over 90% of all funds that we have attracted. We have closed more than 30 deals in sectors such as infrastructure, health, telecommunications, information technology, logistics, financial, energy, forest products, mining, and petrochemicals, as well as others. We are now moving from the formative stage to one in which we will work more closely with our overseas partners to identify and develop new projects together. It's safe to say that our business model has proved effective. Much of our success is due to our innovative co-investment mechanism that ensures RDIF and our partners invest on a ratio of not less than one to one.
In Russia and other countries, there are already quite a lot of development institutions. What are the benefits for international investors of working with RDIF?
For investors, RDIF provides a unique opportunity to invest in companies and projects that would bring attractive returns on a parity basis. The model of co-investment according to which the Fund operates has already been adopted by the governments of several European, Middle Eastern and Asian countries. The Fund's local expertise, as well as effective interaction with Russian business and government, allows us to structure complex long-term projects effectively. We have also proven expertise in infrastructure projects, for which there will be high demand in Russia in the coming decades. In addition our ability to act as an anchor investor provides comfort to foreign investors.
What are the benefits of such a model for Russia itself?
Russia is also interested in quality, long-term investors that have extensive industry experience. Today RDIF attracts 10 rubles from its partners to each of its own ruble invested in Russia. RDIF is working with funds and companies that come into the country for the long term and are capable of improving the corporate governance and efficiency of Russian business. Together we also invest in companies that have the potential for significant growth and are able to become drivers of the Russian economy. All these factors make our investment efficient and profitable for Russia.
Can you already provide examples of such success stories among the companies that RDIF and its partners have invested in?
I can point to the MD Medical Group, which became the revenue leader among companies in Russian healthcare in just a few years. With the funds it obtained, including those raised from RDIF and its international partners, the company has built new clinics and hospitals. Voltyre-Prom, a tire manufacturer; Maykor, an IT outsourcer; and Cotton Way, a network of industrial laundries, have all become the absolute leaders in their industries, in many ways shaping them from scratch. One of our first major exits occurred this year when we sold our stake in ALROSA, the largest public diamond-mining company in the world, at a yield of 37% per annum.
How would you assess the results of the past year, and what kind of plans are there for RDIF's future work?
The year was particularly active. We approved investments with our partners amounting to 540 billion rubles, which is three times more than in the previous three years. Moreover, the greater part, 505 billion, was invested by our partners. In the summer, RDIF signed a record agreement with the sovereign wealth fund of Saudi Arabia, the Public Investment Fund, which will invest $10 billion, and in the fall our long-time partner, Kuwait Investment Authority, doubled its investment in RDIF's projects from $500 million to $1 billion on an automatic co-investment basis. Projects in the spheres of agriculture, infrastructure, transport, health care, medicine and other industries are all in our plans. RDIF has approximately 60 projects presently under consideration, totalling over $10 billion in all.
What effect will RDIF's new status as an independent fund, which was recently signed into law, have on its work? What should co-investors expect?
For our partners, nothing will change. We will continue to adhere to high standards and improve our investment processes. It will simplify the management of the Fund, and its status will increase both inside the country and abroad. We take it as a step forward towards international best practices and another step towards our esteemed partners.
What investment ideas do you see now for long-term investors in Russia? What can you offer to partners in the coming years?
There is a wide range of investment ideas in Russia that we will continue to discuss with the leading investment funds, especially at the time of their heads' traditional meetings with President Vladimir Putin at the St Petersburg Economic Forum. These include import substitution and export oriented projects, repurchase of non-core assets in natural monopolies, and improving the efficiency of industry, which, according to our estimates, Russia has the potential to increase by 30-40%. Also of interest are companies that can participate in the privatisation programme and industry leaders providing economic growth in general. We believe that today is a unique time to invest in Russia as the country enters a new 'growth trajectory'. I thank our partners for their trust and contribution to RDIF's success and Russia's further development.
Sincerely,
Kirill Dmitriev
Chief Executive Officer
Chairman of the Management Board of RDIF