Message from the CEO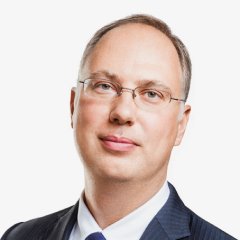 Kirill Dmitriev
Chief Executive Officer
«RDIF strategy is based upon six pillars. These pillars are improving the quality of life for Russian citizens, the construction of modern infrastructure, the development of Russia's regions, the improvement of enterprise efficiency, technological development, providing incentives for the import substitution and harnessing the export potential of Russian business.»
Since the creation of the Fund, we, together with our partners have invested over 2.1 trillion roubles for these purposes. RDIF portfolio companies employ more than 800,000 people. Companies' revenues equate to over 6% of Russia's GDP, while their tax and social contributions amount to billions of roubles. $40 billion has been raised for joint funds.
RDIF, together with its partners, has already invested in projects that will ensure Russia is a leader in the digital economy, specifically investments in telemedicine and internet infrastructure development projects. Over the next few years, our co-investments will be the key driver for the country's transition to a sustainable growth trajectory and to achieve the investment and technological breakthroughs mentioned in the President's Address to the Federal Assembly.
New agreements to invest in largescale infrastructure projects of national importance, such as the construction of the Central Ring Road sections and the bypass of Kutuzovsky Prospekt in Moscow, strengthened the Fund's positions as one of Russia's key infrastructure investors. Together with our partners, we are ready to commit over 10 trillion roubles in infrastructure investments. What remains unchanged is our commitment to the principles of profitability and positive return on investment.
Over 2017-2018, the investments of RDIF and its partners accounted for over 90% of the total private equity investments and over 60% of venture investments in Russia.
I would like to express my gratitude to our foreign and Russian partners, the management and all employees of portfolio companies, employees of the Fund for their productive team work and invite new investors to take part in writing Russia's success story.
Thank you for your trust.
Sincerely,
Kirill Dmitriev