Sputnik V demonstrates highest safety profile during the vaccination campaign in Serbia
Press release,

28.05.2021
Moscow, May 28, 2021 – The Russian Direct Investment Fund (RDIF, Russia's sovereign wealth fund) announces that the latest official vaccination data in Serbia confirms Sputnik V Russian coronavirus vaccine to be the safest among COVID vaccines included in country's national portfolio.
The data confirms that Sputnik V demonstrates the highest safety profile:
No vaccination-related serious adverse events (SAE) registered;
No vaccination-related deaths reported;
No cerebral vein thrombosis (CVT) cases after vaccination observed.
Sputnik V has helped Serbia to become a European leader in vaccination against COVID. To date over 1/4 of the population of Serbia has been fully vaccinated with various vaccines included in country's portfolio (28%), twice as many as in Europe on average (14%).
A set of measures, including an active program of immunization allowed Serbia to reduce the daily average infection rate twelve times vs the peak rate in late March – early April 2021, and the current infection rate is lower than the European average.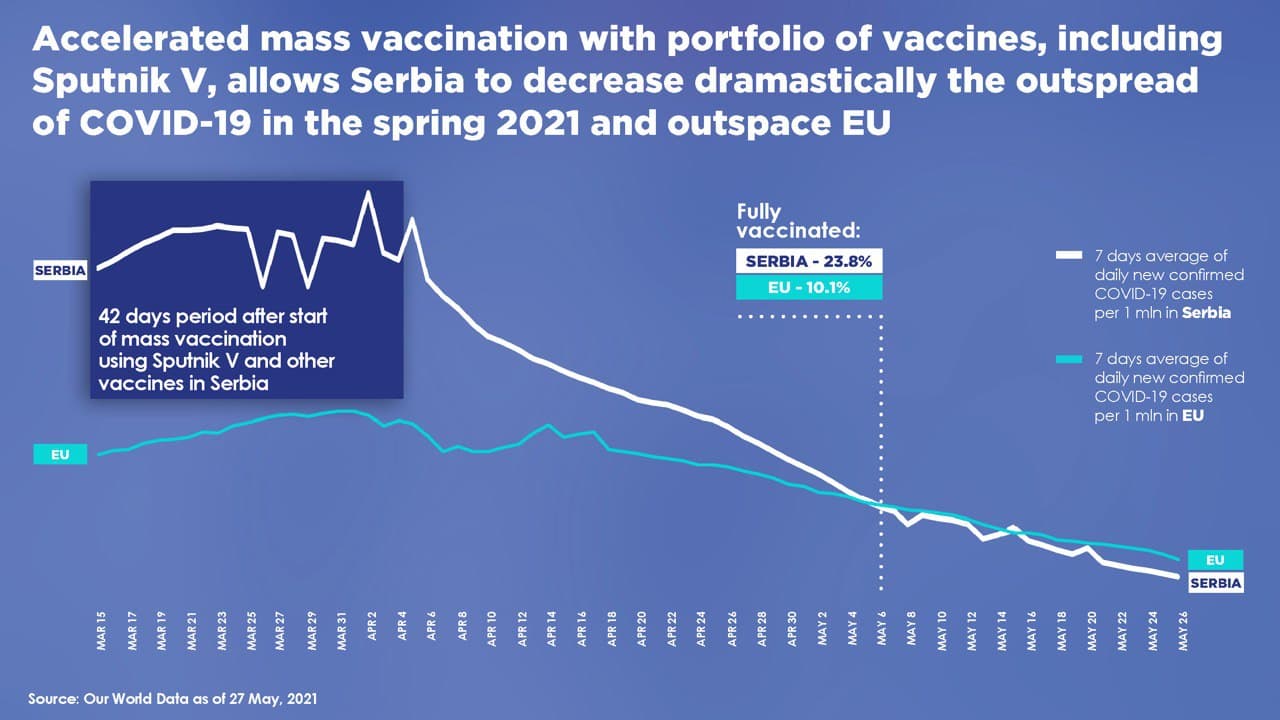 The effective vaccination campaign had an impact on the COVID-19-related death rate — the daily average number of deaths decreased almost four times vs the peak rate in early April.
Kirill Dmitriev, CEO of the Russian Direct Investment Fund (RDIF), said:
"Serbia made choices on inclusion of various vaccines against COVID in the national vaccine portfolio free of political bias. High safety profile of Sputnik V has been once again confirmed while inclusion into Serbia's vaccine portfolio enabled the country to become the European leader in vaccination against COVID. We appreciate the partnership with Serbia and stand ready to provide other countries with Sputnik V to help people feel safe again."
Nenad Popovic, Minister of Innovations and Technological Development and Co-Chairman of the Intergovernmental Committee for Cooperation between Serbia and Russia, said:
"Serbia was independent in the selection of vaccines and made decisions without political bias. The health and lives of our citizens were endangered, and the most effective way to preserve them was to obtain as many vaccines as possible. I would like to express my gratitude to our Russian partners for their support in the delivery of vaccines, and also for the opportunity to soon, as the first country in South Europe to do so, start the production of the Sputnik V vaccine in the Republic of Serbia. The launch of the production of the Russian vaccine in Serbia is the result of an agreement between two presidents, Aleksandar Vučić and Vladimir Putin. It is a confirmation of the closest cooperation and the highest degree of mutual trust between Serbia and Russia."
Sputnik V has a number of key advantages:
Efficacy of Sputnik V is 97.6% based on the analysis of data on the coronavirus infection rate among those in Russia vaccinated with both components of Sputnik V from December 5, 2020 to March 31, 2021;
The Sputnik V vaccine is based on a proven and well-studied platform of human adenoviral vectors, which cause the common cold and have been around for thousands of years.
Sputnik V uses two different vectors for the two shots in a course of vaccination, providing immunity with a longer duration than vaccines using the same delivery mechanism for both shots.
The safety, efficacy and lack of negative long-term effects of adenoviral vaccines have been proven by more than 250 clinical studies over two decades.
There are no strong allergies caused by Sputnik V.
The storage temperature of Sputnik V at +2+8 C means it can be stored in a conventional refrigerator without any need to invest in additional cold-chain infrastructure.
The price of Sputnik V is less than $10 per shot, making it affordable around the world.
***
Russian Direct Investment Fund (RDIF) is Russia's sovereign wealth fund established in 2011 to make equity co-investments, primarily in Russia, alongside reputable international financial and strategic investors. RDIF acts as a catalyst for direct investment in the Russian economy. RDIF's management company is based in Moscow. Currently, RDIF has experience of the successful joint implementation of more than 80 projects with foreign partners totaling more than RUB2 tn and covering 95% of the regions of the Russian Federation. RDIF portfolio companies employ more than 800,000 people and generate revenues which equate to more than 6% of Russia's GDP. RDIF has established joint strategic partnerships with leading international co-investors from more than 18 countries that total more than $40 bn. Further information can be found at rdif.ru
For additional information contact:
Alexey Urazov
Russian Direct Investment Fund
Director for External Communications
Mobile: +7 915 312 76 65
E-mail: Alexey.Urazov@rdif.ru
Andrew Leach / Maria Shiryaevskaya
Hudson Sandler
Tel: +44 (0) 20 7796 4133