Russian Helicopters
One of only six major players in the global market, with the ability to design, manufacture, test, and maintain helicopters.
A consortium comprising RDIF and the leading Middle Eastern funds acquired a minority stake in Russian Helicopters, the helicopter design and manufacturing company, from Rostec.
Co-investors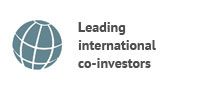 KEY FACTS
The company has been able to consolidate funds to implement its investment program and business plan, including the development of new types of helicopters.
Foreign investors have been attracted to a leading Russian company, with further potential to increase investment. New jobs are being created.
Year of Investment: 2017.
INVESTMENT STRATEGY
DEVELOPMENT OF EXPORT POTENTIAL
Improvement in industrial efficiency