ARC International
Worldwide tableware leader.
А consortium of investors, led by RDIF, CDC International Capital (CDC IC), a subsidiary of the French sovereign financial institution Caisse des Dépôts, and Bahrain Mumtalakat Holding Company (Mumtalakat) invested in Arc, a leading global glass tableware manufacturer.
Co-investors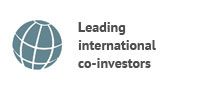 KEY FACTS
The company gained the opportunity to modernize its largest plant in France and the existing plant in Vladimir Region and to start building a new state-ofthe-art plant in Kaliningrad Region with a record low cost of production and a unique location.
The first joint investment made together with French partners enables the company to build new production facilities in Russia and modernize its existing plant, facilitating import substitution and developing the export potential of Kaliningrad and Vladimir Regions.
Year of Investment: 2016.
INVESTMENT STRATEGY
Development of export potential
Improvement in industrial efficiency