RDIF together with international investors and Rosseti (JSC Russian Grids) will invest in the project aimed at introducing "Russian Grids" across Russia's regions using funding granted by the Russian National Wealth Fund (NWF). The construction of "smart grids" will improve the energy efficiency of Russian Grids' subsidiary and dependent companies. Kaliningrad, Yaroslavl and Tula have been chosen as pilot regions for the project.
Co-investors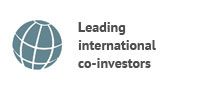 Key facts
The parties began work on installing approximately 223,000 smart electricity metering appliances. This will help prevent unauthorised grid connections, reduce losses and improve widespread production of cuttingedge high-tech equipment in Russia.
Project will initially be launched in Kaliningrad, Yaroslavl and Tula regions. Project will be scaled to numerous other regions across Russia.
Year of investment: 2014.
Investment strategy
Infrastructure development
Improving efficiency of industry