RDIF has attracted a number of leading foreign investors from North America, Middle East, Europe and Southeast Asia into a consortium to invest in the IPO and SPO of ALROSA. ALROSA is the largest diamond producer in the world by output in carats.
Co-investors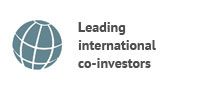 Key facts
An increase in the exploration and production at promising and existing fields (Karpinskogo-1 pipe and commissioning of the underground mine Udachniy, the Botuobinskaya pipe launched in Yakutia).The IPO stake was sold in spring 2016 at a yield of over 30%.
The sale of a stake in the state-owned company (privatization) in an SPO generated budget revenues in the amount of USD 812 mln.
Following the deal, the weight of ALROSA shares in the MSCI Russia Index increased, which allowed raising USD 70 mln from passive investment funds.
As of year-end 2016, the share price rose by over 45% compared to the SPO offer price.
Year of investment: 2013, 2016.
Investment strategy
Improvement in industrial efficiency