Elimination of "digital inequality"
Implementation of project aimed at liquidation of "digital inequality" in the Russian Federation
Funds from RDIF, the Russian National Wealth Fund (NWF) and private investors will be used to finance projects aimed at eliminating digital inequality across Russia's regions in partnership with Rostelecom. NWF funds were granted to RDIF to finance infrastructure projects.
Co-investors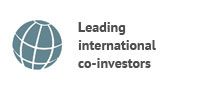 Key facts
The combination of foreign capital, international expertise and funding from the Russian National Wealth Fund will positively impact the infrastructure projects, which will have a knock-on effect for the economy.
The project involves construction of required communication including among others, deployment of access points and connection of population centers with fiber communication lines .
Rostelecom was selected by the Government as monopoly provider of services for liquidation of digital inequality. The company will receive financing over 10 years for the project's implementation from Universal Service Fund of Rossvyaz ("USF").
Year of investment: 2014.
Investment strategy
Growth of the middle class
Infrastructure development